自然と共生する家を通して 日本家屋のDNAを次世代へ
Passing the DNA of Japanese houses on to future generations Through houses that are united with nature
金沢21世紀工芸祭 kanazawa 21st CENTURY kogei festival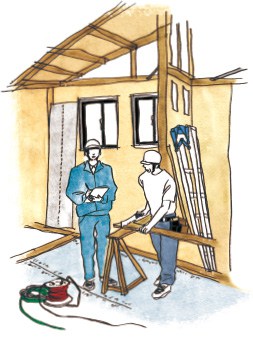 建築は、遥か遠い時代から続く「ものづくり」。 職人たちの技を結集し、ひとつの建物を造り上げていく。石川県を中心に住宅建築や宅地の分譲を手がける中部ジェイ・シィも、ものづくりに携わる建築会社のひとつだ。
中部ジェイ・シィが提案するのは、「豊かな暮らしができる家」。四季を感じ、光や風の力を取り入れながら自然と共生する。家族の形態に合わせて手を加え、末長く暮らしていく。家の中心で家族が会話を楽しんでいるー。そんな、かつての日本家屋には確かに存在した豊かな暮らしを取り戻し、次世代へと受け継いでいくための手段としての「家」づくりを目指している。
金沢市にあるモデルハウス「かたりべの家」は、中部ジェイ・シィの想いを追体験できる場所。北陸特有の気候に順応するように建てられたこの家は、高い断熱性を誇り、夏は涼しく、冬暖か。壁の中にまで新鮮な空気が行き渡るので湿気の影響を受けにくく、建物が傷みにくいのも特長だ。床材には、天然の無垢材を使用。本物だけが持つ感触の魅力に気づき、ゆったりとくつろぐ子供の姿もよく見られるという。
Architecture is a form of craftsmanship that has carried on, unbroken, since long ago. Various artisans' skills are combined in the construction of a single building.In working on residential construction and the selling of residential land primarily in Ishikawa Prefecture, Chubu-jc is one of the architecture companies involved in such craftsmanship.
What Chubu-jc proposes are "houses that enable a more fulfilling lifestyle," where residents can truly feel the four seasons and live in unity with nature, harnessing the forces of light and wind. Making adjustments to suit the structure of the family creates everlasting livability. In the heart of the home, the family delights in conversation. The company aims to restore this fully-realized way of life, one that certainly existed within Japanese houses at one point, and to build homes that serve as a means to pass that life on to future generations.
"Kataribe-no-Ie", a model house in Kanazawa, is a place where visitors can experience Chubu-jc's ideas first-hand. This house, built to adjust to the unique climate of the Hokuriku region, boasts superior insulation, making it cool in the summer, and warm in the winter. As fresh air spreads through to the insides of the walls, the effects of humidity are lessened, and the building also has the advantage of being less susceptible to damage. For the flooring, natural, solid wood is used. Apparently, children are often seen to relax and feel more at home as they get to know the appealing feel that only the real thing can offer.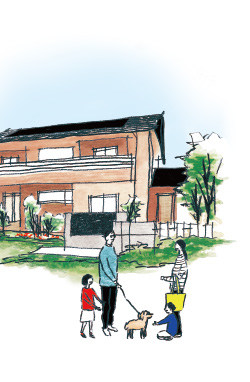 帰りたい家、帰りたい街
新しい「ふるさと」をつくっていく

いい家づくりに必要なのは、プロフェッショナルとしての意識。2016年、中部ジェイ・シィは「協働」を新たなスローガンに掲げた。設計士や現場監督だけでなく、大工や左官といった職人たちの意識をさらに向上させるのがねらい。関わる人たちが対等な立場で向き合う妥協なきものづくり。時に激しい議論も交わされるが、すべては「ここに帰ってきたい」と思える家をつくるためだ。
中部ジェイ・シィはまた、「家づくり」は「街づくり」であるとも考えている。家と同じように、人々が「この街に帰ってきたい」と思える景色を心に描けるよう、周囲の街並みとの調和を重視した家づくりを追求している。
人生の原点ともいえる家やふるさと。自然と共に生きる住まい方を通して、生き方までも豊かにしていくことが中部ジェイ・シィの夢だ。住まう人の思いをカタチにし、想像を超える心地よさを実現する家。そこにはいつも家族が集い、団欒する光景があるに違いない。
A home, and a town,
you want to come back to Creating a new "hometown"

What quality home-building needs is the awareness of professionals. Chubu-jc has adopted "Cooperation" as its new slogan for 2016. The goal is to further improve the awareness of not only their designers and foremen, but also craftsmen such as carpenters and plasterers, so that everyone involved can ply their trade from a position of equality, without compromise. Heated debates may break out from time to time, but it is all for the purpose of creating homes about which residents can feel, "I want to come back here."
Chubu-jc also views "house-building" as "town planning." They pursue an approach to house-building that emphasizes harmony with the surrounding streets, envisioning landscapes that make people feel, "I want to come back to this town," much as they would with a house.Homes and hometowns can also be called the starting points of life.
Through ways of housing that have residents living together with nature, Chubu-jc's dream is to make a way of life that is ever richer. Giving form to residents' hopes, these homes provide comfort that surpasses the imagination. There is no doubt that these are places where families are apt to gather at any time, and enjoy each other's company.

株式会社 中部ジェイ・シィ
石川県金沢市諸江町上丁581番地2
http://www.chubu-jc.com/
こちらのコラムは、街なかで配布している『金沢みらい茶会』のリーフレットでもご覧いただけます